Thread count explained.
1,000 thread count sheets, 100% Egyptian Cotton that sell for less than $100.
Can it be true? Most likely NO!
Watch the below video to learn more about thread count and what it really means.
It is commonly believed that the higher the thread count, the higher the quality of the bed sheet. Well, this simply is not true.
Many if not most people believe that the pinnacle of quality sheets are 1,000 to 1,200 thread count.
While there are some legitimate bed sheets that do have 1,000 thread count that are high-quality sheets, the reality is they don't sell for $100. They sell for 5 to 10 times this amount.
With the claims of being 100% Egyptian Cotton, don't be fooled by this claim either. There is 10 times more Egyptian Cotton sold on the market than is grown. So, you figure it out.
Back to the basics, thread count is the simple formula of adding together the number of warp and weft threads found in one square inch of fabric.

But this number has no correlation to the quality of the cotton used in the bed sheet construction. Misrepresenting a fabrics thread count is an easy and somewhat low-risk way companies use to embellish their products, after all, not many are going to cut their sheets apart and start pulling the threads out to count them.
Here is an analogy that is easy to understand. Hamburgers – there are $1.00 hamburgers, and then there are $40 hamburgers made from Kobe beef. They are both hamburgers and both made from beef. It is safe to say there are significant differences as it relates to the quality of these items.
A similar comparison can be made with bed sheets. As with many products, they are available in different qualities and of course, prices.
Here are a few of the qualities that cotton is graded by:
Diameter length

Color

Fiber strength

Fiber length.
Keep in mind that even if it is labeled Egyptian Cotton, it still can be substandard in the qualities mentioned above.
According to authorities in the Egyptian Government, there is likely 10 times more Egyptian cotton sold than grown (think about it).
Just ask Walmart & Target, they have been sued for selling mislabeled Egyptian cotton sheets.
Here is a brief overview of fiber length.
Shown below is a magnified image of two different qualities of bed sheet fabric.
It is easy to see the differences; the first image has an inconsistent weave, thread diameters and there already is some pilling that has started to occur as a result of the inferior aspects of this fabric.

In the second image, it is clear to see the consistency in weave and thread diameter.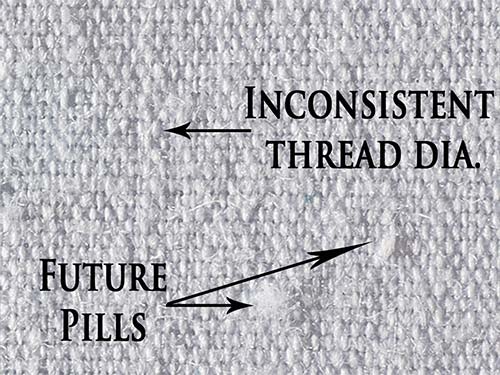 Bottom line, when you see 1,000 thread count sheets being sold for $100 or less, the reality is, they are made from very low-quality cotton.
When you shop at Vero Linens, you can be sure that you are getting only the finest and highest-quality Italian bed linens.

Putting this in more perspective:
Our Diamante fabric cost is around $20 per meter

One sheet set requires about 8 meters of fabric

That equates to about $160 for just the plain cotton fabric. There has been no measuring, cutting, sewing or other finishing performed on it.

There is also a need to account for the cost of packaging, shipping, and import duties and yes, some profit.
You may also enjoy these articles on bedding:
At Vero Linens, our customers can be assured that we use the finest cotton in all of our beautiful bed linens.