​The Big Benefits of Oversized or Custom Bedding
Few pieces of furniture have a direct impact on our lives like our beds. Not only is it the visual centerpiece of your bedroom, but it's also where you'll spend most of your time on a day-to-day basis (even if you're not awake for all of it).
Consciously or not, we tend to choose beds that are representatives of our lives, and now that we're all home more, people are beginning to reimagine what they want or need their beds to do for them. This has many folks turning to oversized beds - Wyoming Kings, Texas Kings, or massive nine foot by nine foot Alaskan King Beds - to increase their comfort, improve their space, and enhance or cultivate a specific lifestyle.
Though there are many compelling reasons to upgrade your sleep experience with a big bed frame, here are some of the most significant benefits to consider.
Increased Comfort
The first (and most obvious) benefit of an oversized bed is that it simply offers (a lot) more space, which guarantees great sleep for couples, larger folks, and people who enjoy having room to move around at night.
In recent years, traditional king size beds have begun to overtake queen size beds as the top choice for couples of all shapes and sizes, because no matter how much they may love their partners, some people just can't get enough of their own space at night. For these folks, an oversized bed offers even more room for each person to sleep peacefully without interrupting or being interrupted by their partner. This also makes oversized beds a practical choice for couples that have different work or sleep schedules.
And since even the shortest oversized bed (the Wyoming King) still clocks in at seven feet long, these beds are literally a great fit for especially tall people. The California King bed is the longest standard bed size available on the market, but while it also clocks in at seven feet long, it's only six feet wide - even smaller than a traditional king size bed! This may be fine for a tall person sleeping alone, but the lack of width could cause problems for some couples. Oversized beds more than makeup for that with ample room in every direction, especially when you get up to the Texas King or Alaskan King sizes.
Shop for Oversized and Custom bedding here.
Room for the Whole Family
Young families love oversized beds because they provide a cozy place to spend time together. Co-sleeping with kids younger than preschool age is a long-standing tradition that's seen a rise in popularity in recent years as some of the health and emotional benefits of this practice gain traction in the public consciousness. Oversized beds make this a far more comfortable experience for everyone involved, especially with the super-wide Family size bed or the extra-large Alaskan king.
And while co-sleeping may not be the right fit for every family, sometimes it's just nice to have a place where everyone can hang out together that emphasizes and encourages comfort and intimacy. An oversized bed is an ideal setting for activities like storytime, movie nights, and of course, breakfast in bed.
Fit for Fido
Studies show that over half of the dog owners and 62% of cat owners in the United States sleep with their pets at night, including 32% of "large dog" owners. We can definitely attest to how much space a big pooch takes up when they're sound asleep. If you want to share your bed with your pet(s) for safety — or just because you love the snuggles — an oversized bed ensures that you can accommodate them without missing out on roomy and comfortable sleep.
A Big Bed for a Big Room
Beyond the practical applications, oversized beds also offer many aesthetic benefits, especially for people who are trying to furnish really large bedrooms or hotel suites. Sometimes a truly massive master bedroom can make even a standard king or California King size bed frame look minuscule.
From a design perspective, an Alaskan king or other oversized bed makes better use of big spaces by utilizing more of the room for a functional purpose and providing a strong focal point. This ensures that the most important piece of furniture in the room doesn't get dwarfed by other furniture or design elements.
Emphasize a Luxury Lifestyle
Not for nothing, but if it's important to you, oversized beds are also an effective way to signal the elegance of your space, and it always feels good to know that you've spared no expense to provide comfort for yourself, your family, or your guests. Simply put, an oversized bed can help you realize the luxury lifestyle that you've worked hard to achieve.
An Alaskan King Bed transforms your space from a functional bedroom into an exceptional space built for leisure and relaxation. For individual families, an oversized bed can become a sanctuary in your home, and for high-end hotels or vacation rentals, an Alaskan King Bed will let your guests feel like they're staying in the lap of luxury. No matter what kind of room you're trying to furnish, these big beds will immediately make it look and feel more sophisticated.
Because of their immense size, these huge beds often require ordering custom made mattresses and bedding. This means that you're also able to enjoy the benefits that come with purchasing a handcrafted mattress and linens made specifically for you, with all of the care and quality that entails, such as the fine Italian sheets available from Vero Linens.
Live Large with an Alaskan King Bed
Though these big bed frames appeal to many people for many different reasons, they're not easy to come by, and usually, when you do, they're simple wooden platforms that serve the purely functional purpose of holding an oversized mattress.
The Alaskan King Bed from Francis Lofts & Bunks is more than just a heavy-duty bed frame; it's also a high-quality piece of furniture that will accentuate your style and add a level of sophistication to your space thanks to its bold and tasteful modern design (available in five decorative finishes). Each bed is custom built to order and handcrafted with care in the USA.
Click here if you feel like you're ready to change the way you sleep forever and to learn more about uncompromising integrity and oversized style of these massive metal bed frames. For a limited time, enjoy $150 off an Alaskan King Bed from Francis Lofts & Bunks using the offer code VERO at checkout.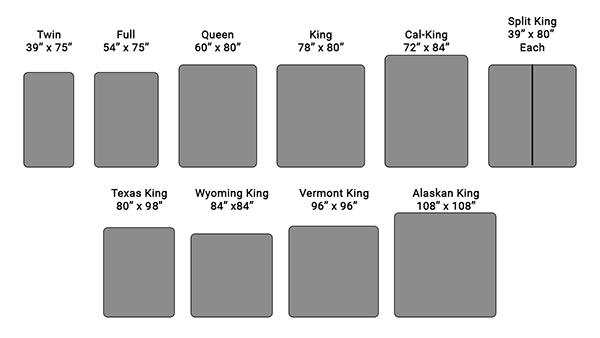 FAQ
What are the most popular sizes of oversized mattresses?
Where can you purchase luxury custom bedding for a oversized or custom size mattress?
What is the cost of oversized or custom bedding?
What is the largest size bed?