Picking the Perfect Pillow for you...
Are you looking for the perfect sleeping pillow?
With over 25 years in the luxury bedding industry, we feel confident in saying – there isn't one sleeping pillow that satisfies everyone's needs or likes.
If the pillow that one sleeps on is too soft and not supportive or if the pillow is too firm and not forgiving enough, spinal misalignment is possible.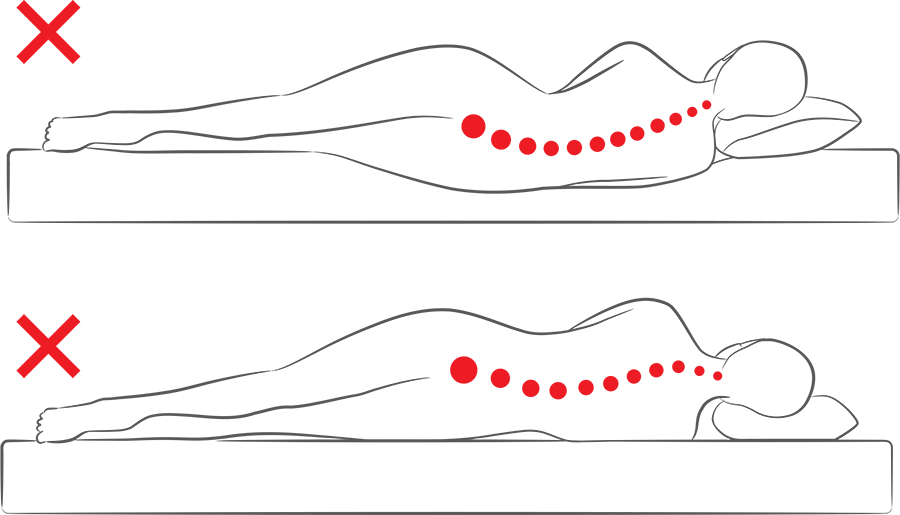 To begin, the following is intended as a guideline to selecting the pillow that is best for you – there is no hard and fast rule applicable to all.
Lets face it, men and women have different body structures. According to US National Highway Traffic Safety Administration – the average weight of a male's head is 8.11 lbs. and 6.34 lbs. for a female's head. Representing a 1.77 lbs. difference.
The average width of a man's shoulders is 18.25 inches and 14" for a woman.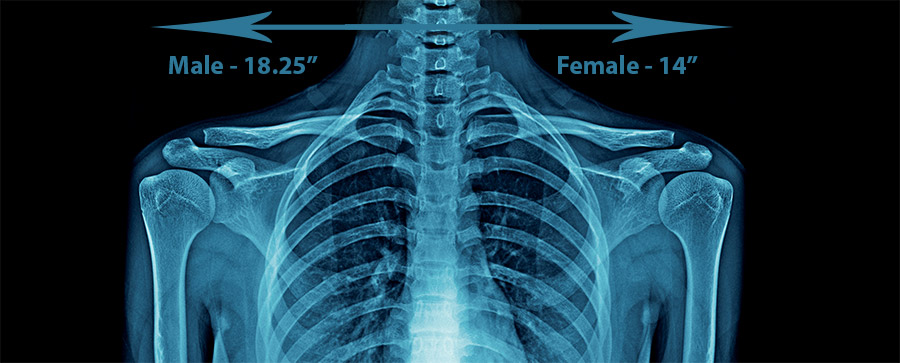 Here's how this applies to sleeping pillows and more specifically to the side sleeper.
Using the above premises; the distance between the side of a man's face to their mattress is larger and with their heavier heads, more pressure is applied to a sleeping pillow.
Which brings us back to our claim that one pillow may not meet the needs of all individuals.
This statement is a generalization, but experience has shown us that men overall prefer a firmer pillow, we believe this is due to the size and weight difference.
In most of our videos and blog posts we don't spend much time promoting our products, this post is a slight exception. But we use this opportunity to explain the different fills that we offer in our sleeping pillows and what you might consider when selecting your next one.
Pillows come in all types of fills; beans, wool, latex, foam rubber, polyester, etc..
With regard to pillow fills: there is one sleeping pillow fill that has stood the test of time for hundreds of years – that is down/feather. Which explains its overwhelming popularity.
Down/feather are washable, malleable, durable and conform to different pressure points above all, they are comfortable. They do cost a little more than most other types of synthetic pillow fills, but are still reasonably priced. Considering a good down/feather pillow can last 15 years or more we think the additional cost for a better nights sleep is a worthwhile investment.
These pillows are also made from a natural fiber so you sleep more comfortably and the cotton fabric shell is better for your skin than synthetic covers. Down/feather pillows are typically available in different fill weights and firmness levels.
With regard to our pillows, they are made in the US, not China or Asia (found in big box stores), where the cleanliness of the down is very questionable. They are also generously filled and full.
All of our down is IDFL certified, which means the foul is not live plucked or force fed.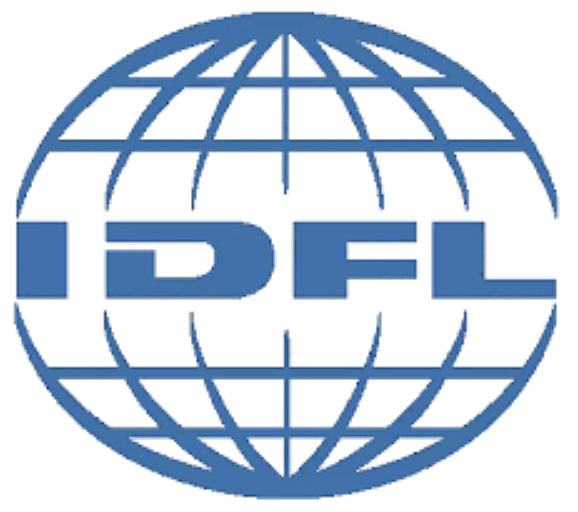 We offer three different firmness levels, so there is one available to meet your specific needs. In addition, for those that have allergy issues, we offer a Polyester fill. Although we feel down or feather pillows are superior fills to other types – if one has allergies to down – we understand a down/feather pillow may not work for you.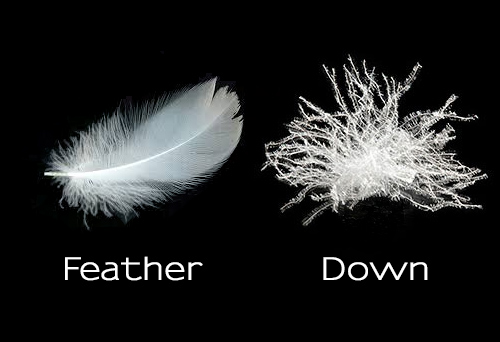 Feather pillow: is our firmest pillow. As shown above, feather has a more pronounced structure, is more dense and firmer than down. It is very inexpensive and provides excellent head support.
Feather is also an excellent fill for decorative pillows and shams as it doesn't clump up like other synthetic fills can.
Because of the small quill found in feathers, consider using two pillow protectors on a sleeping pillow to prevent the quil from poking through the cover.
Compartment pillow: this is our most popular pillow. It's construction is unique. This pillow is made with a pillow inside a pillow. At the core is a smaller feather pillow, providing more support. This pillow is then encapsulated in a larger down pillow.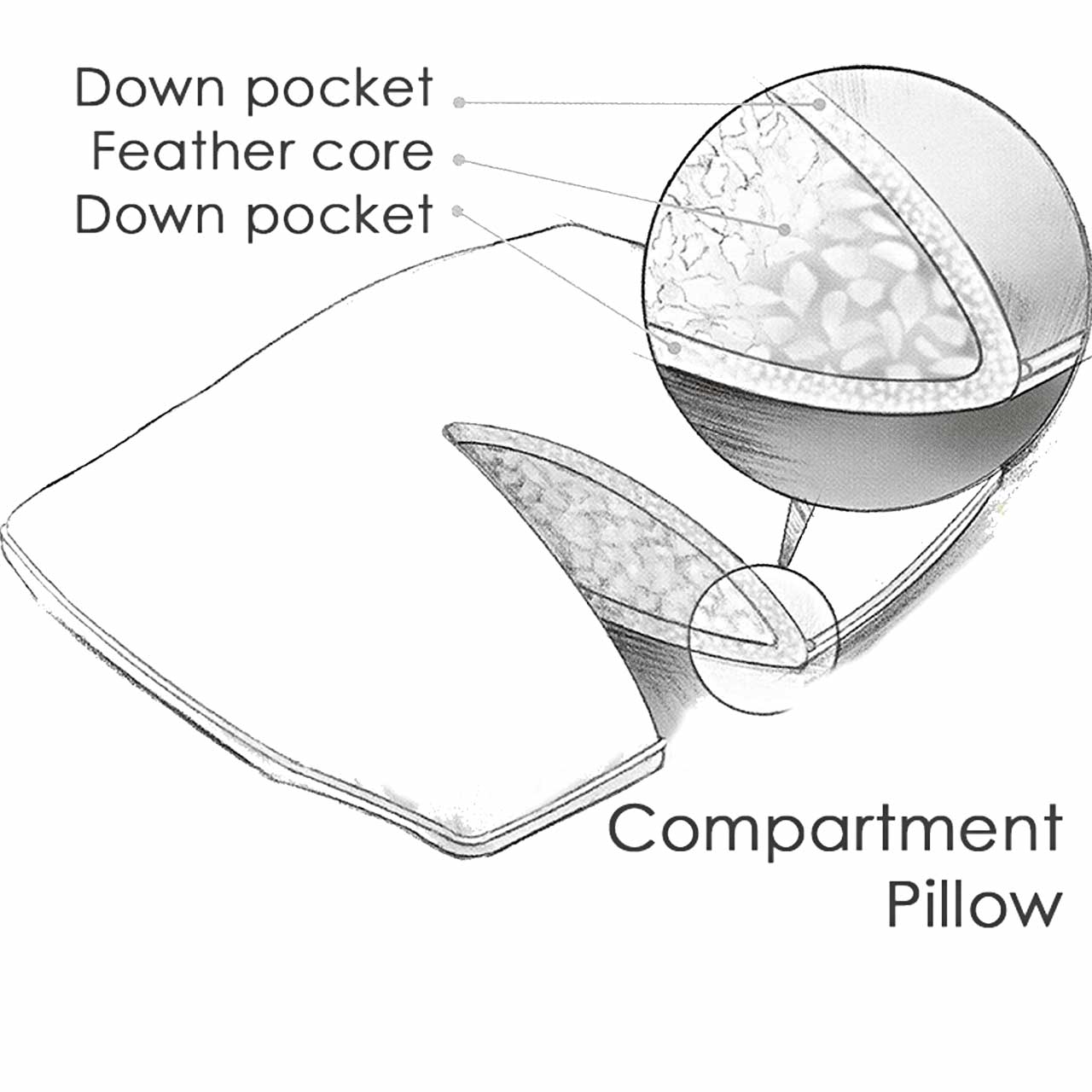 This pillow provides the best of both worlds – the firmness of feather and the softness of down. Because of the feather core, it comes and at very reasonable cost.
Down: is perfect for those that like a softer pillow. Down has less structure than feather resulting in a softer pillow. Down does have a small quill, but it is virtually undetectable.
As a side note: Because there is far less down on a bird than feather, down is costlier than feather. But it provides a wonderful softness that can't be replicated in synthetic fabrics.
We hope this clears the pillow conundrum up. If not give us a call or send us an email.
If your interested in shopping for our pillows, simply click the below image to be redirected to our pillow shopping page.