Down Comforter Tips - what you need to know...
Down Comforter Tips - What you need to know....

Because it doesn't have to support weight the way pillows and mattresses do, your Down comforter should last 10 to 15 years if you keep it covered and air it regularly. It may need to be replaced if it looks flat or limp.comforters eventually wear out. A down comforter's life is subject to how you use and care for it.
Duvet Cover:
Down comforters should have a cover (duvet cover), which is much easier to clean. Like a pillow protector, a duvet cover helps shield from a buildup of dust, dirt and the like. The Duvet cover also protects the comforter from oils that can break down fabric and eventually cause filling to leak.
Friction: Avoid laying (or sitting) on top of your down comforter. This creates friction between the down clusters causing them to break down and turn into dust. Down comforters typically wear out in the shoulder area first. This area is exposed to friction created by your shoulders as you toss & turn in bed. Restless sleepers will find their down comforter wearing out sooner than non-restless sleepers. Try to rotate your comforter (top to bottom) each time you change your duvet cover.
To see if it is time to replace your down comforter, hold it up to a room light or window with natural light to look for worn out compartments.
Watch the below video to see how we do it.
If you determine it is time to replace the comforter….consider your bedroom temperature before choosing the weight of a down comforter. Look for double stitching and baffle box construction, which allows the down to loft and helps keep the down from bunching or shifting.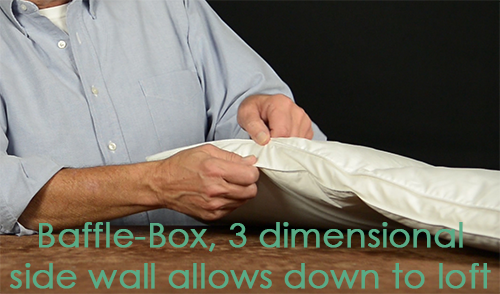 Or watch our video below:
Shop for our Down Comforters below.