Who doesn't dream of a summer sojourn to stunning Italy? The rolling hills of Tuscany. The sun kissed Amalfi coast.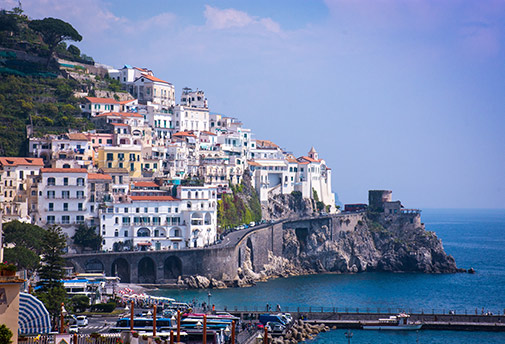 The romance of ancient Rome. We all do!!!!! Whether you're fortunate enough to have journeyed there or not, why not bring a little bit of Italy home to enjoy each and every morning and night with Italian made Vero Luxury Linens.
Why visit Italy? Well that's a silly question. A more interesting question….
Why purchase Luxury Linens from Italy???? As many know, Italy produces the finest bed sheets in the world.
It's true- Italy is a higher cost country in which to manufacture. So why produce our Luxury Linens there as opposed to anywhere else? It's simple: Northern Italy is a top producing cotton weaving region in the world and has been since the Middle Ages. It must be Italy
Why not the USA?
Well, very few textile mills now operate in the U.S. while even fewer have 120" wide looms necessary for producing bedding. Far fewer specialize in thin-sheet grade cotton required for Luxury Linens. It must be Italy.
But Asia is cheaper….
China and India may have the edge when it comes to low-cost/high volume inexpensive linen markets. Their choice of cotton and yarns, however, is variable and their cotton is frequently substandard. Many weavers in Asia often lack credibility and have been known to cut corners. We don't cut corners so, it must be Italy.
Note this enlarged image of our Italian cotton sheet weight fabric and with product from China - notice the inconsistent thread diameters and weave. And those knotted-up areas, will pill after a few uses and washes.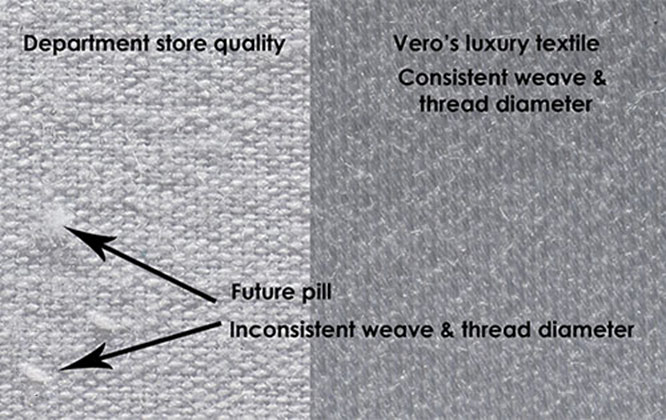 Furthermore;
Luxury Linen production is a niche market. There are many complexities associated with weaving products suitable for luxury linens and frankly, high-volume, high tech "weavers" are not interested in the small quantity (high quality, small demand) work that the luxury linen industry requires. It must be Italy.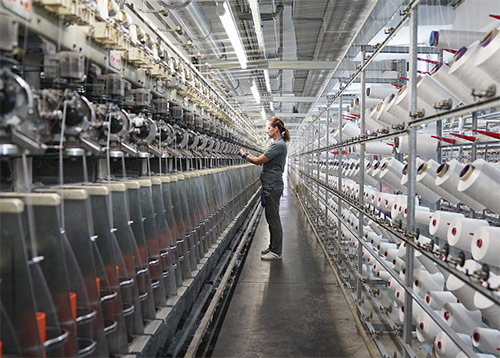 Our Sateen cotton fabric is so smooth and soft you would swear it was silk.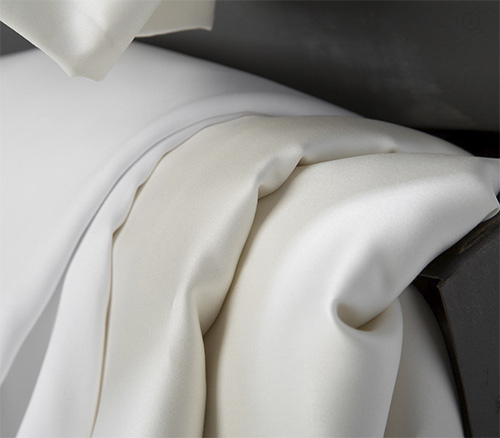 Finished with pride and attention to detail;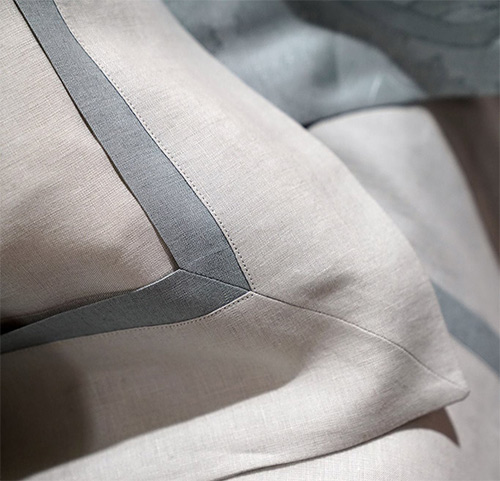 The finishing of luxury linens is a specialty craft. In Italy, sew rooms are small and occupied by very skilled sewers—true artisans of their craft. Some of the workers in Vero's sew rooms are third and fourth generation luxury bed linen craftsmen. Italy's pride in craftsmanship makes the "Made in Italy" Vero label mean something special!
Simply put, we make our linens in Italy not because Italy is a low cost country to produce bed linens in, it is because Italy is where the finest linens in the world can be produced.
So, if you can't go to Italy, bring a little Italy home and enjoy the very best Luxury Linens it has to offer…. morning and night!
Look to Vero Linens for very highest quality combined and surprising affordability as our linens never have a retail markup. We also offer Italian duvet covers and shams. Our feather and down sleeping pillows are some of the finest made, as well as everything else you need to create a luxurious sleeping experience. Luxury Linens…. it's what we do.
Click Shop Here button to buy our incredible luxurious Italian linens.