4 reasons not to buy thick mattresses & how to measure yours
The best way to measure your mattress and why you should avoid purchasing a thick mattress.
As we have stated several times, mattress manufacturers have gotten crazy with the thickness of mattresses. We see them from 9" to 24" and everything in between.
And as we have learned, consumers tend to blame the sheets for not fitting a mattress rather than the mattress not fitting the sheets.
Regardless, our recommendation is to avoid purchasing these thick mattress as they can cause the following challenges.
They don't offer more comfort than the thinner varieties, and they cost more.

Purchasing bedding may become an issue, items such as fitted sheets, duvet covers, or coverlets may not fit. They could be too small or short on the side.

Your furniture may look out of proportion. Nightstands may look funny being so much shorter than the bed.

Getting into and out of bed may be a challenge, you may need a step stool.
On to measuring a mattress.
If you're in the market for new bed sheets, you may want to do a quick measure of your mattress as you will want to ensure your new sheets fit you're mattress.
Many people simply measure the thickness from cord to cord. This is fine if your mattress is relatively flat. However, many mattresses have a crown which adds additional thickness.
Here is what you will need – two straight edges – yardstick are perfect and a tape measure.
Simply insert one of the straight edges between the box spring and the mattress.

Then lay the second straight edge across the top of the mattress, ensure that you place the second straight edge into the center of the bed as well make sure it is level to the ground.

Now measure the distance between.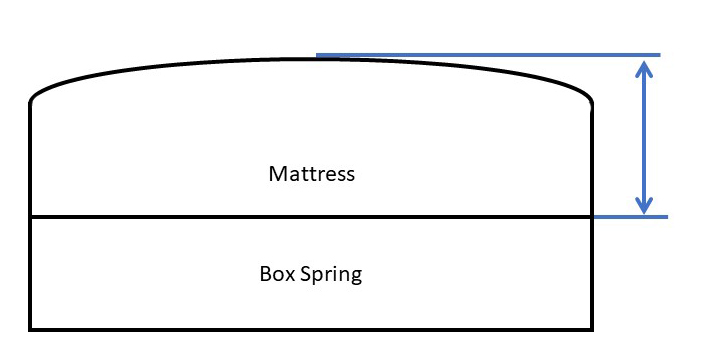 This measurement does not need to be exact. However, if you're on the cusp of the thickness and the depth of your fitted sheets, you will want to take this into consideration.
To shop Vero's Luxury Bedding click the Shop Here Button.