All mattresses over time will become soiled.
There is the normal type of soiling that occurs from body oil and sweat and the other type of stains that come from a variety of different sources.

Many of the foam type mattress manufacturers sell a cover. We recommend purchasing one because as careful as you might be in bed, as we all know - stuff happens.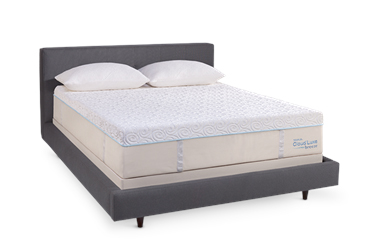 It is not a bad idea to clean the cover at least two times a year just to keep it fresh.
One of the advantages of cleaning a foam mattress is that it typically has a either a topper cover as shown above or a zip-on cover.

Each of these can easily be tossed into the wash machine. The disadvantage of a zip on cover is that foam mattress (especially the memory foam ones) weigh an enormous amount and it is difficult to remove and put the cover back on.
There frequently are washing instructions sewn into the inside of the cover;
If not, simply use a mild detergent, cold water and then a cool dry (air drying is best).
You should be careful not to use hot water or to over dry.
Most of the covers that come with mattresses are a cotton/poly blend.

These covers will clean up well, however, the cotton may shrink a bit.

It is a challenge to put the cover on in the first place, if it has shrunk 2 or 3%, it may be more difficult if not impossible and you will find that you need to replace it.
Your foam mattress should never get wet, but accidents do happen.
If you find that there is a reason that the mattress requires cleaning, immediately remove the cover and wash. You will want to blot the affected area with a towel until it is dry to the touch.

If there stain is something that might contain bacteria – you may consider taking a cloth soaked in a mild soap water and then lightly wiping over the area in question a few times. After doing this, re-blot the area with a towel until it is dry.

One of the problems with foam is that it is absorbent and the stain and liquid you apply will soak into the foam. You may also consider placing a fan on a chair and aim the fan at the wet area.

Avoid using bleach or any type of solvent as this can damage the foam cells, solvents can actually melt the foam.
At Vero we don't sell mattresses, but we do sell incredible incrediable bedding products
To shop for Vero's luxury bedding, click on the below shop now button.

Use the code bedding tips at checkout and get 5% off your entire purchase.
View 150+ "How to Tips" bedding related articles & videos here.